In a step to outrun other players in the cloud storage domain, Google (GOOGL) changed its service name to Google One and turned to the public at large in the US. The company dropped the 1TB plan but is offering 2TB for the same price. The cloud storage included numerous other Google services that have an online storage segment.
For a monthly fee, Google One cloud storage can be used with Google Photos, Gmail, and Drive for more files to be stored. The service will be available in the US now, but it is still not known when the cloud will accept files storage from other countries.
The company has priced $1.99 for 100 gigabytes of Google One storage per month, $2.99 for 200 GB and $9.99 for 2 terabytes a month. Google scrapped the 1 terabytes storage and instead offers 2 terabytes at the same price for attracting more consumer-cloud storage customers to Google One. The other plans include 10 terabytes for $100 per month, 20 TB for $200 a month, and 30 TB for $300 a month.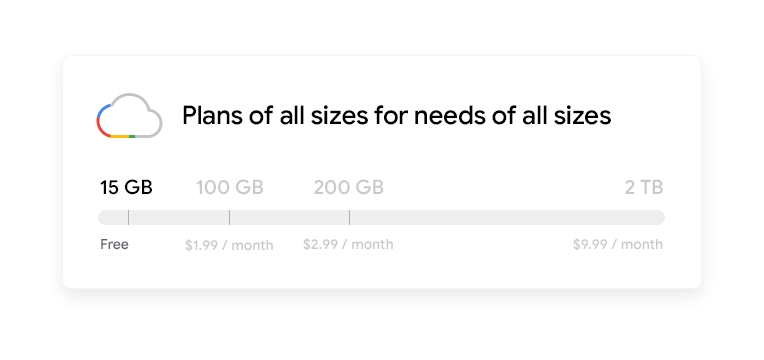 For households, Google gives an option of utilizing the online storage by sharing a single subscription plan with their five other family members. Also, Google has intended to offer better Support in answering users' queries, which is lauded as a significant feature of Google One. The company is allowing Store discounts, Play credits and hotel deals through Google Search in addition to the storage plans.
In comparison, Apple (AAPL) iCloud is offering 50 gigabytes for $0.99 per month, $2.99 for 200 GB and $9.99 for 2 terabytes. Dropbox (DBX) is giving 1 TB for Dropbox Plus at $10 per month and 2 TB for Dropbox Professional at $19.99 a month. Microsoft (MSFT) OneDrive is presenting 50 GB cloud storage service for $3 per month, 1 TB storage for $8, and 5 TB for $11 a month.
Amazon (AMZN) is offering annual storage plans of 100 GB for $11.99 and 1 TB for $59.99, with up to 30 TB for an additional $59.99 per TB. Previously, Amazon was giving unlimited storage for $59.99.
For the freemium, Google is giving 15 GB, and Dropbox is offering 2 GB. Meanwhile, Amazon, OneDrive, and iCloud each give 5 GB online storage service. Google is more preferred in terms of offering free service to the users at large, and the tech giant has large storage plans for heavy users.
Most Popular
Last month, the IPO market was in a full swing. IPOs of Snowflake (NYSE: SNOW) and JFROG (NASDAQ: FROG) had an impressive opening day in September, the former creating a
PepsiCo Inc. (NASDAQ: PEP) beat market expectations on both revenue and earnings for the third quarter of 2020. The company saw the momentum continue in its snacks business while the
With more and more people turning to virtual entertainment sources, amid the virus-related movement restrictions, video game publishers like Electronic Arts (NASDAQ: EA) are witnessing unusually high demand. Not surprisingly,